"Baby" Jaden, who btw, will turn 11 next week....waaahhh.... asked for his favorite morning treat, Popovers. I purchased a mini Popover Pan from Amazon. It's non-stick and wonderful. I used Julia Child's recipe with some tweaks. I didn't preheat the pan and used bread flour for a sturdier Popover. They were simple and delicious.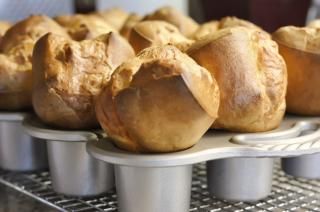 My friend had a craving for Pound Cake. She also liked tart desserts...I made CI Lemon Bundt Cake. This is a wonderful recipe for the summer...moist, flavorful, and easy.
Thanks for letting me share!
Lu